ShaderGlass
A downloadable tool for Windows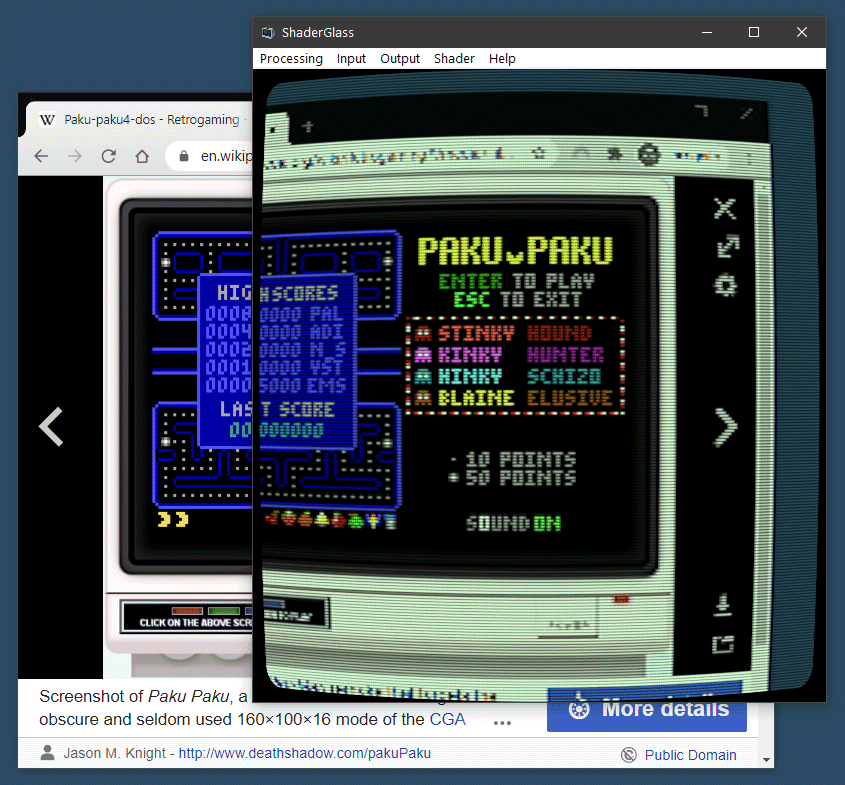 ShaderGlass
Overlay applying retro shaders on top of Windows desktop
applies shader effects on top of any window on the desktop in realtime
includes 300+ shaders from RetroArch library covering:

CRT monitor simulation
image upscaling
TV / VHS simulation
softening, denoising, blur and sharpen

works with most emulators and retro platforms (in windowed/borderless modes) including DOSBox FS-UAE Altirra ScummVM AGS any many more
you can even use it on top of YouTube or Twitch, albeit with some option tuning necessary to clean up video scaling
See GitHub page for more details:
https://github.com/mausimus/ShaderGlass
New in v0.7 (19 Dec 2021):

load .png/.jpg image file as input
lock capture area to clone a portion of the screen
free resizing & scaling support in Windowed Clone mode
option to account for display DPI scaling in pixel size adjustment
Download
Download
ShaderGlass-0.7-win-x64.zip
5 MB
Comments
Log in with itch.io to leave a comment.
Hi!! I am having this problem on starting the software, under Windows 7. Any hint to solve it??

Hey, unfortunately you need Windows 10 (ideally 2004, minimum 1903), those are the earliest versions where the tech ShaderGlass uses is available.
Great tool!!
Can I play game with mouse clicking? not controller.
Hey, thanks! Yes in Glass mode you should be able to "click-through" the ShaderGlass window into any game, keyboard or mouse.
Thank you, great tool!
It may be only my problem, but this app crashes every time I make some adjustments to input/output settings. It is very annoying. If not this issue, and inability to capture fullscreen games, it could be an ultimate tool!

Thanks for reporting this, would you mind opening an issue for the crashes on GitHub so that we can discuss it in more detail there, please? For exclusive fullscreen apps (borderless fullscreen should work with the Fullscreen toggle) indeed the app won't work well, Reshade is a better option for those.
Thank you very much for this great tool! Would it be possible to make a libretro port of Shaderglass you can launch with Retroarch?
Thanks for the feedback! Shaders in ShaderGlass are already in RetroArch (it's where they came from) so you should be able to use them there directly, but you can also start ShaderGlass and RetroArch side-by-side if you prefer. Any closer integration is not on the cards at the moment.
I am simply interested in combining different shaders to make personalized presets, something Retroarch allows, to improve indie games with pixel-graphics. Thank you again, waiting for the next release!
This is beyond amazing! It's brilliant!
Can I ask how you can use it with games, for example in CC6, how can you apply this to the game, so it would look like this?
Thanks a lot.
Thanks man, you should be able to play CC6 games with ShaderGlass window applying the effect without problem. But if you'd like to add the effect to a CC6 game itself then it's not something ShaderGlass can do, it's a completely different function. It'd require CC6 to import a custom post-processing effect shader which I'm not sure it is able to do.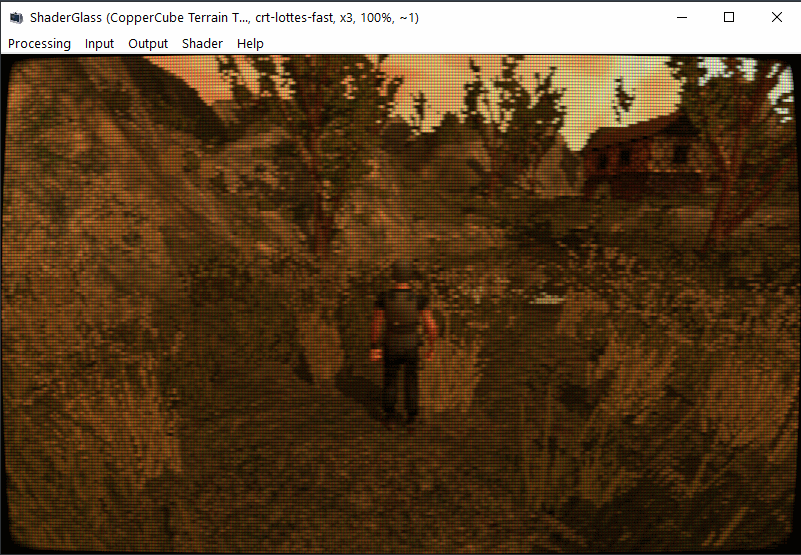 Mausimus, I searched for something like this for ages: please add the option to make a donation! Great work.
Thanks mate, please help to share the word so more people can enjoy it, that's what ShaderGlass needs the most! And if anyone deserves a donation it's the RetroArch community who developed all the shaders, I just wrapped them up!
This is great, but I want to take a screenshot with the effect, is it possible? I can do it with 'Stop' under processing or pressing 'X', is there a shortcut key to restart the process? Great tool!!
Hey, thanks for the feedback! Please try 0.6 beta just released, you can both export a screenshot and also pause/unpause using a keyboard shortcut.
This software is amazing!